Director

Sam Bugis, MD, FRCSC
Dr. Bugis is a General Surgeon with subspecialty training and expertise in Head and Neck and Endocrine Surgery. After General Surgery residency at the University of Alberta, he did a Clinical Fellowship in Head and Neck Surgery at McMaster University and St. Joseph's Hospital in Hamilton, Ontario and then a research fellowship at MD Anderson Cancer Center in Houston Texas. He has practiced in British Columbia for 30 years. He is a Clinical Professor in the Department of Surgery, UBC. He is a recipient of the General Surgery Teacher of the Year award and was a Fellowship Examiner for the Royal College of Physicians and Surgeons in General Surgery. Dr. Bugis has held numerous leadership positions including Medical Staff President at Royal Columbian Hospital and Chief of Surgery at Royal Columbian Hospital in New Westminster, BC and Royal Alexandra Hospital in Edmonton Alberta. He has been Head, Section of General Surgery and Specialist representative on the BCMA Statutory Negotiating Committee. Currently, Dr. Bugis is Vice President, Physician Affairs and Specialist Practice, Doctors of BC.
His interest in Global Surgery was sparked by attending the Bethune Round Table Conference held in Vancouver in 2013. Shortly thereafter he took the Canadian Network for International Surgery's (CNIS) Essential Surgical Skills Instructor Course and a few months after that was in Moshi, Tanzania for a two week session teaching and supervising that course. Since then, he has visited Developing Countries in Sub Saharan Africa and South America on multiple occasions. He has also obtained the Graduate Certificate in Global Surgical Care from the Branch for Global Surgical Care at UBC. Currently, He is Board Chair of the Canadian Network for International Surgery and a Fellow and Examiner for the College of Surgeon of East, Central and Southern Africa.
---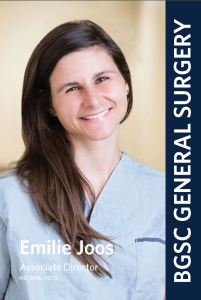 Associate Director
Emilie Joos, MD, FRCSC
Dr. Joos is a Clinical Assistant Professor with UBC's Department of Surgery.  Dr. Joos is a practicing general surgeon and trauma surgeon at Vancouver General Hospital. At the completion of her surgical critical care training, she was appointed as a clinical instructor in trauma at University of Southern California. She is an instructor for the Advanced Surgical Skills for Exposure in Trauma and an Advanced Trauma Life Support course director. She has been working with Médecins Sans Frontières since 2015 and was deployed several times in Sub-Saharan Africa. In 2017 she completed her Emergency Response Unit training with the Canadian Red Cross and is now on the roster for deployment. Dr. Joos is a fellow of the Royal College of Surgeons of Canada in General Surgery and obtained her Critical Care accreditation from the Royal College in 2014. She is a Fellow of the American Board of Surgery. Dr. Joos is a course director for the Advanced Surgical Skills for Exposure in Trauma, the Definitive Surgical Trauma Care and the Advanced Trauma Life Support courses. She is the provincial chair for ATLS in British Columbia and the Surgical Care Surgery Fellowship program director at UBC, in addition to being the Associate Medical Director at the Branch for Global Surgical Care and the Co-Lead of the Global Surgery Lab.
---
Graduate Program Advisor

Faizal Haji, MD, PhD, FRCSC
Faizal Haji is a pediatric neurosurgeon at the BC Children's Hospital and an Assistant Professor in the Department of Surgery at the University of British Columbia. Dr. Haji is also co-lead for the Surgical Education Research Interest Group and Associate Director of the Global Surgery Lab within the Department of Surgery at UBC.
Dr. Haji completed undergraduate studies followed by medical training at McMaster University. After graduating from medical school in 2008, he completed his neurosurgical residency at Western University in London, Ontario, Canada. During residency, Dr. Haji obtained a PhD from the Institute of Medical Science at the University of Toronto, alongside completing research fellowships at the Ronald R. Wilson Centre for Research in Education at UHN and the Learning Institute at the Hospital for Sick Children. His dissertation focused on the effect of fidelity, complexity and cognitive load on learning and transfer of procedural skills for novices engaged in simulation based education. Upon completing neurosurigical residency and becoming a fellow of the Royal College of Physicians and Surgeons of Canada in 2018, Dr. Haji completed a postgraduate fellowship in pediatric neurological surgery at the Children's Hospital of Alabama and the University of Alabama at Birmingham (UAB), where his research focused on capacity development for postgraduate surgical training in resource-limited settings. After training, Dr. Haji spent two years as a pediatric and adult neurosurgeon at the Kingston Health Sciences Centre and Medical Education Scholar at Queen's University. Dr. Haji's academic interest is in health professions education, with his program of research focusing on three areas: (i) optimizing the design of simulation-based education for medical and surgical skills training with particular focus on cognitive load and learner engagement; (ii) surgical decision making and factors influencing the quality of education and assessment during surgical training; and (iii) translating innovations in health professions education to facilitate surgical capacity development in resource-limited settings through global surgical partnership.
---
Education Manager
Cecilia Gruber, M.Ed., B.A.
Cecilia Gruber is an education and program management professional who is passionate and committed to learning, education, service and international and community development which is demonstrated through 15+ years of experience in program planning, management and education in the academic, public, private and non-profit sectors. Cecilia has experience in roles in education management, administration and program management positions at UBC at the School of Population and Public Health and Canadian International Resources and Development Institute before coming to BGSC in July 2019.
Prior to working at UBC, Cecilia held diverse positions in international development and project management with the Institute of Public Administration of Canada, Presbyterian World Service and Development, Shastri Indo-Canadian Institute as well as the Public Service of Ontario. She also has been an active volunteer for several years with Amnesty International, Rainbow Refugee and the Canadian Red Cross Emergency Management Team.
Cecilia holds a Bachelor of Arts in International Relations (UBC), Master of Education in Adult Learning and Global Change (UBC), and a  Postgraduate Certificate (Honours) in International Project Management (Humber Institute of Technology and Advanced Learning).
---
Former Director

Brian Westerberg, MD, MHSC, FRCSC
Dr. Westerberg is a Clinical Professor at the University of British Columbia and a practicing Otolaryngology-Head and Neck surgeon at St. Paul's Hospital, Vancouver. He holds a Masters of Health Science (Health Care and Epidemiology) from UBC. He is the author of numerous publications, including research articles evaluating the prevalence of hearing loss in primary school children in Zimbabwe, a cross-sectional survey of hearing impairment and ear disease in Uganda, and the effectiveness of education endeavours in low-resource settings. He is active in clinical outreach to rural and remote communities in British Columbia, Canada.
For the past 20 years Dr. Westerberg has been involved in educational programs in Zimbabwe and, more recently, Uganda. Supported by Rotary, the Hearing Health Care projects have studied hearing loss and provided temporal bone courses and clinical officers lecture series.  Dr. Westerberg served as the Director of the Branch for Global Surgical Care and Program Director of the MGSC and GCGSC from 2018 until 2023.



---
Founding Director
Robert H. Taylor, C.M., MD, MIH, DipTM, FRCSC
Dr. Taylor is a Clinical Professor Emeritus of UBC's Department of Surgery. A significant part of his 49-year career was focused on surgical care in under-served populations in every continent of the world through surgical service, surgical training and infrastructure development. He has worked with faith-based organizations, University programs, NGO's and the International Red Cross.






---