Director 
Brian Westerberg, MD, MHSc, FRCSC
Dr. Westerberg is a Clinical Professor at the University of British Columbia and a practicing Otolaryngology (Neurotology) surgeon at St. Paul's Hospital, Vancouver. For the past 15 years he has been involved in service missions to Zimbabwe, Uganda and Ethiopia. In Uganda, supported by Rotary International, he has led the Hearing Health Care projects which have studied hearing loss and provided temporal bone courses and clinical officers lecture series focusing on issues of capacity building, sustainability, and the role of medical missions. Currently, Dr. Westerberg serves as the Director of the Branch for Global Surgical Care at the University of British Columbia.
---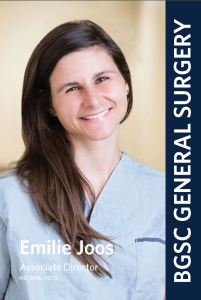 Associate Director
Emilie Joos, MD, FRCSC
Dr. Joos is a Clinical Assistant Professor with UBC's Department of Surgery.  Dr. Joos is a practicing general surgeon and trauma surgeon at Vancouver General Hospital. At the completion of her surgical critical care training, she was appointed as a clinical instructor in trauma at University of Southern California. She is an instructor for the Advanced Surgical Skills for Exposure in Trauma and an Advanced Trauma Life Support course director. She has been working with Médecins Sans Frontières since 2015 and was deployed several times in Sub-Saharan Africa. In 2017 she completed her Emergency Response Unit training with the Canadian Red Cross and is now on the roster for deployment. Dr. Joos is a fellow of the Royal College of Surgeons of Canada in General Surgery and obtained her Critical Care accreditation from the Royal College in 2014. She is a Fellow of the American Board of Surgery. Dr. Joos is a course director for the Advanced Surgical Skills for Exposure in Trauma, the Definitive Surgical Trauma Care and the Advanced Trauma Life Support courses. She is the provincial chair for ATLS in British Columbia and the Surgical Care Surgery Fellowship program director at UBC, in addition to being the Associate Medical Director at the Branch for Global Surgical Care.
---
Education Manager
Cecilia Gruber, M.Ed., B.A.
Cecilia Gruber is an education and program management professional who is passionate and committed to learning, education, service and international and community development which is demonstrated through 14 years of experience in program planning, management and education in the academic, public, private and non-profit sectors. Cecilia has worked in various roles in education management, administration and program management positions at UBC at the School of Population and Public Health and Canadian International Resources and Development Institute before coming to BISC in July 2019.
Prior to working at UBC, Cecilia held diverse positions in the non-profit sector with the Institute of Public Administration of Canada and Presbyterian World Service and Development, and Shastri Indo-Canadian Institute as well as the Public Service of Ontario. She also has volunteered with Amnesty International, Rainbow Refugee and the Canadian Red Cross.
Cecilia holds a Bachelor of Arts in International Relations (UBC), Master of Education in Adult Learning and Global Change (UBC), and a  Postgraduate Certificate (Honours) in International Project Management (Humber Institute of Technology and Advanced Learning).
---
Founding Director
Robert H. Taylor, C.M., MD, MIH, DipTM, FRCSC
Dr. Taylor is a Clinical Professor Emeritus of UBC's Department of Surgery. A significant part of his 49-year career was focused on surgical care in under-served populations in every continent of the world through surgical service, surgical training and infrastructure development. He has worked with faith-based organizations, University programs, NGO's and the International Red Cross.