Robert Baird, MSc, MDCM, FRCPSC, FACS
Dr. Baird is an Associate Professor of Pediatric Surgery, Surgical Director of the Pediatric Trauma Program, and Fellowship Program Director at the University of British Columbia. He holds double Master's degrees from McGill University (Experimental Surgery) and Oxford University (Evidence-Based Health Care). He worked in Kenya while completing his surgical training and currently supports the Uganda-Vancouver surgical partnership through in-person camps, virtual teaching and curriculum building for learners from low-resource environments. He is particularly focused on bidirectional opportunities to enhance surgical training as well as evidence-based capacity building.
---
Geoffrey K. Blair, MD, FRCSC
Dr. Blair is a Clinical Professor of Pediatric Surgery and a practicing pediatric surgeon at BC Children's Hospital. His varied interests include pediatric thyroid surgery, surgical education and innovation, and children's access to surgical care. For 10 years, Dr. Blair has led a pediatric surgery team on an annual two-week surgical camp in Uganda, treating hundreds of children while working with and training Ugandan surgeons. Currently he also serves as Director of Undergraduate Surgical Education and as Program Director for the Division of Pediatric Surgery at UBC.
---
Kevin Bush, MD, FRCSC
Dr. Bush is a Clinical Professor at UBC with over 20 years of experience in reconstructive, cosmetic and cranial facial surgery.  He is on staff at St. Paul's Hospital and Vancouver General Hospital.  He also provides consultation and surgical services in Whistler, Squamish and Prince George.  Dr. Bush has been on numerous Operation Smile missions to multiple countries.  Dr Bush has also been to Uganda multiple times where UBC's Division of Plastic Surgery there has established a strong relationship with Mulago and CORSU Hospitals.
---
Damian Duffy, MSc (Global Health Policy)
Mr. Damian Duffy is the Executive Director of the Office of Pediatric Surgical Evaluation and Innovation at BC Children's Hospital and has been with the Faculty of Medicine at the University of British Columbia since 1994. With a passion for health equity, Damian is a member of Surgery and Society which aims to understand socioeconomic factors which influence access to surgical care for children and their families. Damian is the Program Facilitator for Brighter Smiles which provides community-centred and culturally-responsive care for children and families in partnership with the Gitga'at, Gitxaala and Lax Kw'alaams First Nations. He is a Global Impact Fellow with Unite for Sight, which aims to eliminate preventable blindness in Ghana through social entrepreneurship and service learning. In collaboration with our Ugandan colleagues, Damian facilitates the Soroti Children's Project where Ugandan and Canadian summer medical students and interns work together on identified community health priorities. He is the Primary Care Leader and a member of Board Member of Directors of Health for Humanity. Damian recently completed a Master of Science in Global Health Policy at the London School of Hygiene and Tropical Medicine and hopes to use his education to help advance the goals of the partnerships in which BISC is involved.
---
David Fairholm, MD, DipMedEd, FRCSC
Dr. Fairholm is a Neurosurgeon and a Clinical Professor at the University of British Columbia. Internationally, he has been influential in establishing a broad range of clinical education programs and reform initiatives in Taiwan and in Indonesia. Currently, Dr. Fairholm is Executive Dean at Pelita Harapan University where he is providing advisory services in clinical education reform and administration. He is a member of the Foundation for International Education in Neurological Surgery and held the position of Secretary to the Board for eight years.
---
Harvey Hawes, BSc, MSc, MD
Technology and Innovation
Dr. Hawes is a Trauma surgeon at Vancouver General Hospital, and an innovator and humanitarian dedicated to improving the health of people around the world. He mentors surgical residents and fellows globally and develops disruptive medical technologies and novel health care delivery systems in partnership with governments, universities and hospitals. With deep experience in remote, resource-constrained environments throughout the world, Dr. Hawes has developed unique insights into complex, yet soluble challenges. Based in Vancouver, he serves as Director of Operations for Alberta-based nonprofit, Innovative Canadians for Change (ICChange), focused on addressing technological barriers in resource-limited clinical settings at a systems level. Their approach often mixes academic, NGO, public policy and local entrepreneurial strategies, allowing for comprehensive and sustainable outcomes. As co-founder of Metric Technologies, he uses a multidisciplinary approach to address the global surgical burden of disease through expert-sourced innovation, creation of local sustainable business models and development of new, context-appropriate devices and manufacturing technologies. He received a Doctor of Medicine, MSc in Respiratory Physiology and a BSc in Cellular and Molecular Biology from the University of Calgary. His specialist General Surgery training and Acute Care Surgery Fellowship at the University of Alberta was followed by a Trauma Surgery fellowship at Memorial Hermann Hospital at the University of Texas at Houston. Harvey is a Fellow of The Royal College of Physicians of Canada and an Adjunct Professor at the University of Texas at Houston.
---
Shahrzad Joharifard, MD, MPH
Conflict and War Surgery
Dr. Joharifard is a pediatric surgeon with a passion for global health, particularly in conflict and post-conflict settings. She has extensive experience in sub-Saharan Africa. Immediately after completing general surgery residency at UBC, she began working as a surgeon for Partners in Health at JJ Dossen Memorial Hospital, a remote referral hospital in Harper, Liberia. There, she served as one of only 11 surgeons in the entire country of 4.7 million people—and only 1 of 3 outside the capital. Prior to entering medicine, she spent two years working with the International Rescue Committee in the Democratic Republic of the Congo and Sierra Leone. While a medical student, Dr. Joharifard then spent a year in Rwanda, where she conducted epidemiological research and worked with Partners in Health to establish surgical services in Rwinkwavu and Butaro. She has also worked at Kolofata District Hospital in the Extreme North of Cameroon, Chris Hani Baragwanath Hospital in Soweto, South Africa, Mbingo Baptist Hospital in Northwest Cameroon, and Gondor University Hospital in Gondor, Ethiopia.
Dr. Joharifard holds an AB in History cum laude from Princeton University, an MD from Duke University, and an MPH in Clinical Effectiveness from the Harvard School of Public Health. She completed her residency in General Surgery at the University of British Columbia in 2017, followed by fellowship in Pediatric Surgery at CHU Sainte-Justine at the Université de Montréal in 2020. Dr. Joharifard is currently an attending Pediatric Surgeon and Clinical Assistant Professor of Surgery at British Columbia Children's Hospital. She is also an active surgeon with Médecins Sans Frontières and has been supporting the essential surgical skills training course in Aweil, South Sudan with Dr. Emilie Joos.
---
Rupinder Khotar, GenDN, PsychDN, BScN
Rupinder is the OR Nursing Supervisor at St. Paul's Hospital. She has been an OR nurse since 1992 and worked as one of the educators of the Providence Health Care (PHC) Perioperative Nursing Program for 10 years before taking over her present role. She is the past Chair of the Operating Room Nurses Association of Canada (ORNAC) Standards Committee, served as President Elect from 2011-2013 and as ORNAC President from 2013-2015.
---
Andrea MacNeill, BSc (Hon), MSc, MD
Planetary Health
Dr. MacNeill is a surgical oncologist at Vancouver General Hospital and BC Cancer, and a Clinical Associate Professor at the University of British Columbia where she specializes in sarcoma and peritoneal malignancies. She completed General Surgery residency at the University of British Columbia followed by a fellowship in Surgical Oncology at the University of Toronto. She pursued additional fellowship training in sarcoma surgery at the Istituto Nazionale dei Tumori in Milan, Italy and the Royal Marsden Hospital in London, UK, and sub-specialty fellowship training in peritoneal malignancies in Basingstoke, UK. She completed a Master's of Environmental Change and Management at the University of Oxford and has published a number of studies investigating the environmental impacts of healthcare activities.  She is the international working group lead for sustainable healthcare for CODA, a global health community mobilizing around climate and health issues, and is co-leading a Canadian initiative for a commitment to net zero healthcare emissions.  She is working with Vancouver Coastal Health on a transformational planetary health strategy to mitigate the healthcare climate footprint while creating health and social value. She is committed to designing health systems for optimal planetary health and educating health professionals to be agents of change.
---
Mark Nigro, MD, FRCSC
Dr. Nigro is a Clinical Professor in the Department of Urologic Sciences at UBC. He is also a Principal Investigator at International Collaboration on Repair Discoveries (ICORD), the Director of the Provincial Organ Retrieval Program, Surgical Director of Renal Transplant at the Vancouver General Hospital, and Co-Director of the Vancouver Ejaculatory Dysfunction Clinic. His research interests include infertility and urologic prosthetics with focus on adult urologic cases and special interest in organ transplantation. Dr. Nigro works with many hospitals as a member of the Consultant Staff at the Children's & Women's Health Centre of British Columbia, St. Paul's Hospital, GF Strong Centre, and Pearson Hospital.
---
Peter O'Brien, MD, FRCSC
Dr. O'Brien is an Associate Professor in UBC's Department of Orthopedics and a practicing Orthopedic Trauma Surgeon at Vancouver General and UBC Hospitals. His surgical practice focuses on Orthopedic Trauma for acute injuries of the extremities and pelvis and the reconstruction of post traumatic complications. In 2007, he visited Uganda to investigate the emerging health crisis of traumatic injuries and there contributed to the establishment of the Uganda Sustainable Trauma Orthopaedic Program (USTOP) in partnership with the Department of Orthopaedics at Makerere University.
---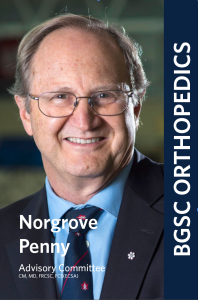 Norgrove Penny, CM, MD, FRCSC
Dr. Penny is a Clinical Assistant Professor in the Department of Orthopedics at UBC. He has a Pediatric Orthopedic and sports medicine practice in Victoria, British Columbia. Throughout his career he has had an interest in international orthopedics, particularly in Africa, including practicing for a number of years in Uganda during which he established a country-wide children's orthopedic rehabilitation program. Currently, Dr. Penny is Senior Advisor for Physical Impairment with CBM International through which he consults in low resource countries around the world.
---
Karim Qayumi, MD, PhD, FRCSC
Dr. Qayumi is a Professor of Surgery and Director of the Simulation Fellowship at UBC and the Paetzold Chair of Technology Enabled Learning for Vancouver Coastal Health. He is also the founder and CEO of CanHealth International, a registered Canadian not-for-profit charity with a vision to foster a measurable improvement of human health in developing nations through delivery of interprofessional health education for the purpose of creating a global community for health education with North American standards.
---
Tim Sveinbjornson MD, FRCPC
Dr. Sveinbjornson is a Clinical Instructor for UBC's Department of Anesthesiology and practicing anesthesiologist at Royal Columbian and Eagle Ridge Hospitals.  Serving with the Canadian Forces for 26 years, he has been deployed to the Golan Heights (1991), Nairobi (1992), Rwanda (1994), Afghanistan (2006, 2008, 2010 & 2013).  His non-military humanitarian work includes surgical missions to Guatemala with Project Hands and Health For Humanity and to South Sudan with International Committee of the Red Cross.  Most recently Dr. Sveinbjornson has become involved in anesthesia resident training in Ethiopia (Apr-May 2019) with Canadian Anesthesiologists' Society International Education Foundation (CASIEF) and in Namibia (Oct-Nov 2019).
---
Pete Tonseth, MD, MRCPC
Dr. Tonseth is a Clinical Assistant Professor in the UBC Department of Radiology, he is currently on staff as a Nuclear Medicine Physician in the Functional Imaging Department at the BC Cancer Agency and is the Education Leader for the Medical Undergraduate Ultrasound Program . He has recently been appointed the Director of the UBC Radiology International Outreach Program and, in the past, Dr. Tonseth has been involved in providing teleradiology support globally in Canada, US, and Australia. Some of his past research includes PET/CT imaging in radiotherapy for lung and breast cancer patients.
---
Nancy Van Laeken, MD, FRCSC
Dr. Van Laeken is a Clinical Professor in the Division of Plastic Surgery at UBC. She is an active Plastic Surgery staff member at many Vancouver Lower Mainland hospitals, including St. Paul's Hospital, Mount St. Joseph Hospital, Lions Gate Hospital, Vancouver Acute and BC Children's Hospital.  She also travels to Bella Bella and Bella Coola in remote BC twice a year to treat patients.  Dr. Van Laeken has been participating in humanitarian work overseas (India, Africa and Bangladesh), for the past 7 years, with the organization Reconstructing Women International and she visited the Philippines in 2011 with Health for Humanity.